Team 180 Spotlight: Claire Sullivan
Ever since fifth grade I have had two driving passions in my life: lacrosse and the military. After trying soccer, basketball, softball, and tennis, I finally fell in love with lacrosse. The experiences I've had with Team 180, from training and expanding my lacrosse IQ to making lasting friendships and playing at incredible venues, are experiences for which I am immensely grateful. They have helped shape me into the person I am today.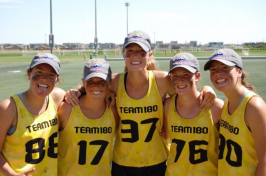 My other passion is the military, more specifically, flying for the Air Force and Coast Guard. My father and grandfather both had civilian pilot licenses, which sparked my interest in aviation. I don't specifically remember how I became interested in the military; I have simply always felt a strong desire to serve my country in the armed forces.
I am currently working with an Air Force prep program where I have achieved the rank of Sergeant. The program includes physical training, military drills, leadership training, character development, aerospace education, and even flying! I remember when I first joined and found out that we got to fly glider and powered planes . . . I couldn't wait! This year I've had the opportunity to fly both gliders and Cessna 172s. However, before I got the chance to do my first orientation flight, I had to read textbooks and take tests on military leadership, aeronautics, and mechanics.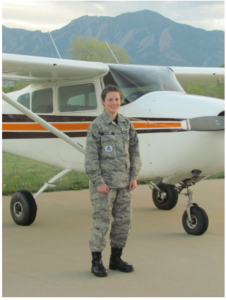 My time spent studying paid off when, on my 16th birthday, I took off in my first glider. My stomach dropped when I was lifted into the air by the tow plane. I pulled on the release cord to disconnect the tow rope and turned hard to the right as the tow plane turned hard to the left. A thrill rushed through my body as I realized that I was in control of a small aircraft. I remember thinking that this was what I wanted to do for the rest of my life; I could fly forever and never get tired of it.
The thrill I felt was replaced with a surprising calmness. The lack of an engine made for complete silence that filled the small glass cockpit around my body. I was lucky enough to find thermals, giving the aircraft lift and prolonging my glide time. I soared above the Boulder area and was even able to spot my house before having to turn back for the airport.
After that first glider flight, I also had the opportunity to fly a powered aircraft: a completely different, yet equally exhilarating feeling. In the cockpit, another Cadet and I had to speak to each other through headsets due to the roar of the propeller. At first, the Cessna was a little overwhelming; my focus darted from our surroundings, to the throttle, to the instruments on the "glass cockpit" or computer screens showing terrain and signals from other planes. However, we soon got the hang of it and were able to enjoy the breathtaking view and the unparalleled feeling of flight.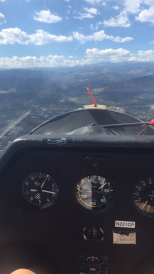 Lacrosse and my Air Force training have been the two most rewarding experiences of my life so far. I am able to find parallels between the leadership experiences I've had in the training program and the game of lacrosse, making me a better teammate and player. I would love to continue my lacrosse career at the collegiate level and I plan on pursuing my passions for service and flying with a career in the US Military.