Team 180 Spotlight: Rachel Cowan
Lacrosse has been a part of my life since I was a little girl. As long as I can remember, I wanted to play in college and was a part of the early recruitment process in high school. Below is my story.
With no organized lacrosse teams available for girls under 3rd grade, I did what I needed to do to get on the field. I joined the boys team. Although I was welcomed by the coach, the players were skeptical (at best) of having to share the field with a girl. It wasn't until I scored the first goal at our team's first game that I was accepted by the boys on the team.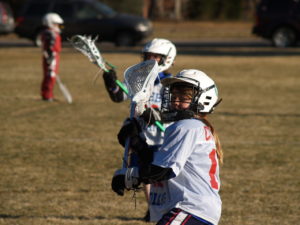 Although sports consumed much of my life, there has always been more that I enjoyed outside of sports. I found early on that I needed the intellectual stimulation that school provided. I loved being able to spend time with my friends, challenge myself, and be in an environment where I could be intellectually curious and learn new things, whether it was in the classroom or elsewhere.
Something that truly has defined who I am is my self-motivation and perseverance, and it has proven to be quite beneficial through all of these years of going to school and playing lacrosse. When the recruiting process started, I was so excited to finally be going through it all. I followed the women's college game closely, and would watch games whenever possible. Early on, there were few women's games on tv, so I would record them when they were on, and once recorded, I would watch them over and over again. I also watched the Ivy League championship game countless times (the Princeton goalie was from Colorado). I admired the 180 girls who had committed to schools, and I always pictured myself as eventually becoming one of them.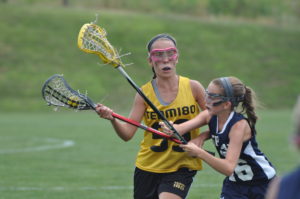 When the time came, I formulated a list of schools which met both my academic needs and athletic aspirations. I knew that in the long run, as much as I love lacrosse, I wouldn't be able to play it forever. I wanted to make sure that I would have an alternative career path available after my "retirement" from lacrosse. With the recruiting process in full swing, I was getting looked at by a wide variety of schools— some amazing programs and great schools were in the mix.
What could go wrong?
Well, unfortunately, right in the middle of this process, injury struck and I was out for months because of a left knee injury. I was devastated. Would I get to play in college because I missed the "hot" recruiting time? One of my top choice schools who had been heavily recruiting me, suddenly decided to move on. For a while, I could not even hear the school's name without a pit in my stomach.
A few months later, a new opportunity opened up! Another great school was looking at me and told me that I was their top attacker being recruited. I was seriously considering going there, thrilled that after such a roller coaster I was back on track to play at the collegiate level. As things were getting finalized, I got the news that the school I would be attending over two years from now, was under new coaching staff. And, of course, the new head coach had her own list of girls she had already recruited. Once again, I was left in the dust.
So here I was, finishing my junior year, with basically all the recruiting spots already filled. I was without a school/team to call my own. I was happy for my lacrosse friends and teammates who had committed, but I was still severely disappointed. In some ways, the pressure was off. I realized that I was not going to be a "recruit". I wouldn't be able to participate in a signing ceremony at my school. I would have go through the regular admissions process, and rely on my academic achievements to get me admitted. But now, I could play lacrosse for the pure enjoyment, rather than having to impress anyone.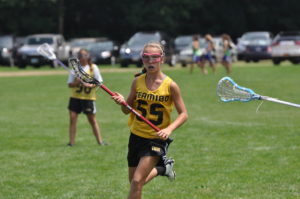 My play during that summer must have caught some of the college coaches eyes, as several coaches had told me that if I were to be admitted to their school, I could walk on and play on their teams. This gave me some hope, that my dream of playing was still alive.
With that motivation, I worked extremely hard to get in the best shape of my life. I continued to work on my stick skills and shooting outside of practice. I was determined to have an incredibly fun, and incredibly successful senior year on and off the lacrosse field. I had an amazing time playing at Sandstorm with my 180 teammates. We managed to make it to the championship game with only one sub and only lost by one goal in OT. It was so fun to have our team really come together at this juncture.
After such a great summer, I was excited to start our very last high school lacrosse season. I was in great shape, and playing well. I knew that our team could be a contender for winning the state championship.
Game one. A home game.
My team was ready to begin the journey together. The game was initially close, but we began to pull away in the second half. It appeared that we were going to pull out a victory! With just a few minutes remaining in the second half, I received a pass near midfield, and was closely guarded by two defenders. In response, I planted my right foot to initiate my dodge. At that moment, I felt a pop in my right knee and the most excruciating pain I have ever experienced in my life. I was carried off the field and it turns out that I had a very complicated injury to my knee. I was seen in Vail by "the World's expert" in my condition, and he told me that he did not want to wait until the scheduled surgical time, he wanted to operate on me the very next day!
Fast forward to two weeks later. My knee was in an immobilizer. I was 100% dependent on others for my basic care during the day and at night, and experiencing lots of pain. My lacrosse season was over. I knew that I may have played my last lacrosse game ever. And everything hurt with months of rehab and recovery ahead. It was a pretty dark time for me, but they say that it is darkest right before the dawn.
March 31 arrived. The final day of college acceptance notifications. This would be the day when I would find out if I was accepted to the school that I had dreamed of attending since the age 5.
I was laying on the couch in the family room, which had become my bed, my kitchen table and hangout since my surgery. I was visibly shaking as I logged into my account at the appointed time. Suddenly, on the top of the screen were these words:

CONGRATULATIONS, YOU HAVE BEEN ACCEPTED INTO THE CLASS OF 2021!
I screamed, and started bawling. I was surprised, shocked and incredibly happy, as was my family around me. I was going to go to my dream school!
I don't know if I will ever be able to play lacrosse again. I love the game and miss playing it immeasurably. I do know, however, that even if I don't play another game ever again, that I am a better woman for having played lacrosse. I developed so many great friendships with girls both here in Denver and on teams across the country. I learned the value of teamwork. I learned the importance of hard work. I learned the importance of competition. And, I learned to love the sound of the ball hitting the back of the net!